It's been quite a while since I posted on this blog, hasn't it? I was just sitting on a pile of blankets (in a pseudo-Princess and the Pea fashion, perhaps?) and going on yet another Rob Zombie binge. I've been listening to a lot of Rob Zombie lately, and I may be judged, but whatever. I like Rob Zombie, dangnabbit! I can't really watch any of his movies all the way through, of late, but I'm going to get through them. Even if I have nightmares.
Any ways, shall I get to the point now? Yes, I think so too.
I was listening to Rob Zombie and drawing a picture of him, based off this photo
which is from the music video for one of his newer songs,
Dead City Radio
. I've been listening to this song at least one a day since I heard of its existence, and I love watching it. I love how Rob Zombie looks, and I want to dress like him. Maybe a slightly more feminine version, and without dreadlocks (because I'm lazy. I do love his dreads, though. I'm fairly jealous of Rob Zombie's hair. It's just such a marvelously chaotic tangle!). This led me to realize just how many of my style and fashion influences are men. Actually, a great deal of my influences in general are male. From arbitrary scenes in film, to the way a musician is dressed on their album cover, to the words they weave in novels. Ultimately, my only strong and constant female influence is Alison Mosshart. There are others, but Alison Mosshart is just beautiful and a creature of wonder. Even then, I am equally influenced by Jamie Hince, the other half of the band
The Kills
.
Fun Fact: A combination of Alison Mosshart and Andy Warhol is what prompted me to wear Wayfarer sunglasses before it was trendy.
Other than Alison Mosshart, most of the influences that I can think of offhand are male. Just to name a few...
Astronautalis-
A rapper from all around the United States (mostly Florida). His lyrics are absolutely beautiful, and
his music is perfect
. He's also one of the most well-read people that I've ever had the pleasure of speaking to and meeting. His style seems to be pretty laid back, but I have so much respect for it. From his worn-looking leather shoes and thick wool sweaters to his tattoos and jewelry.
Probably one of the better dressed musicians I've ever seen. And man. If I could write lyrics like him...
Hunter S. Thompson- I adore two authors. Hunter S. Thompson and Charles Dickens. I've always been an avid reader, and I do have a lot of adoration for Brothers Grimm and L. Frank Baum. Recently I've been reading as much Hunter S. Thompson as I can find, and I bought a pair of aviator glasses with yellow lenses. Even if there isn't a lot about his clothing that influences me, he still does. Not to mention the fact that his writing is a curious kind of masterpiece, where the world takes drastic turns. I'm currently reading The Rum Diary. I bought it a couple of days ago and I'm already half way through. Not a big book, so I'm trying to savour it.
Andy Warhol- Where would I be in life without Andy Warhol? If I could meet any artist who ever lived, it would be Andy Warhol. The reason I love Pop art, and why I painted my chair silver. And, as mentioned, one of the core reasons I started wearing Wayfarer sunglasses. I love everything about the man. His view on the world, his silver hair, his black clothing and his odd films. Sometimes I wonder if his song Coca-Cola is the reason I wanted to play music. And no, you cannot listen to that song. It's impossible to find and seemingly only exists on vinyl, in the collection of a person in Montreal. What I wouldn't give to hear that song again. Though, it's nice having it in my head. It's like a precious treasure. A delicious secret that has nestled close to my heart and will never let me go. Sometimes I think that people don't believe me when I tell them about it. It seems that most people don't believe that it exists. But it does. I don't know what it is about Andy Warhol that caught my heart and soul. I think that ultimately, I just want to be like Andy Warhol.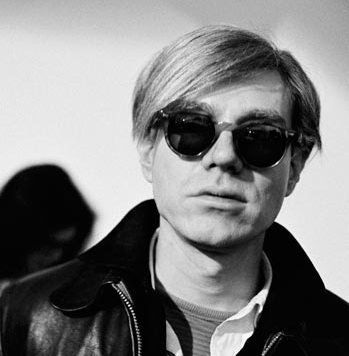 There are so many others. Jack White, Eugene Hutz... And I've realized that I keep going off style and just influence in general. If I keep going that way, I'll never stop writing this. Still, if someone influences the way that you create and think and see the world, they must influence the way you dress. Even if it's a subtle way or means that you have buttons or patches on your clothing. At least in my world that's how it works.