Not too long ago, I wrote about my male influences and icons. Y'know, all of the men who influence my styles, ideals, artwork, et cetera. I was thinking that I would do a quick post about the ladies who influence my style. Here are just a few...
Alison Mosshart
(singer and guitarist, from the Kills and the Dead Weather)
Alison Mosshart is the reason that I started wearing Wayfarer sunglasses, plaid shirts, long necklaces and leopard print. Her style makes me think of 1990s grunge, combined with classic 1970s punk, and a few other aspects I started listening to
The Kills
and
The Dead Weather
when I was in high school and I kind of fell in love with Alison Mosshart's style from the beginnings. I started wearing printed t-shirts and longer over shirts that were button up. It also made for an interest in layering necklaces, which is something that I'm getting into a bit more again. Layering in general is something that I adopted from Alison Mosshart. Oh, also, boots. Can't forget ankle boots. Alison Mosshart is essentially the main reason that I wear ankle style boots, and own the pair of oxford-style ankle boots that I have.
Grav3yardgirl
(YouTube vlogger)
A while ago, I arbitrarily discovered these YouTube videos by a vlogger named Bunny, a.k.a.
Grav3yardgirl
. At first, I wasn't that enthused, but then I started to really enjoy her personality, style, and videos on a whole. Ultimatey, I've learned a lot. She draws a lot of inspiration from Johnny Depp, horror movies, creepy things, classic rock, and all kinds of people and things that I whole-heartedly adore. Bonus, she's from Texas. Her style is amazing. She is the reason that I bought a pair of Jeffrey Campbell Litas, and started enjoying things like acid wash denim and studs. She's actually my main inspiration behind doing fashion blogs and outfit of the day blogs, and also doing themed outfits based on icons and personalities that I'm inspired by. Her attention to detail is perfect, and everything ties into a character or theme, down to the last ring. Even if it's not inspired by a person, her outfits are always pulled together quite well, and I would love to talk to her about clothes and fashion any day. Also, not going to lie, she is the reason for me pursuing a lot of different things, like music, movies, and even Hunter S. Thompson. So... thank you, Bunny!
Wednesday Mourning
(Alternative model)
I first heard about
Wednesday Mourning
because of Oddities: San Francisco. Naturally, I'm fascinated by people who have a solid grasp on history and oddities. Wednesday Mourning is even more wonderful because of her modeling, and the gothic and fantastical imagery that she creates. It seems that for her street clothes, she dresses quite plainly, in a straight-forward Gothic kind of way, with long skirts and sleeves, and a large umbrella whenever she walks in the sun. I think her style is so striking because of how much she makes me think of an Edward Gorey drawing. I think that she is the truest Goth I have ever seen. Definitely more of a 12th to 16th century Gothic kind of way, especially with the adoration for history. Along with her work for Loved To Death and her modeling work, she also has an online shop called Orphic Vellum Books, where she sells old books about the occult, mythology, witchcraft, and other fascinating topics. Definitely an interesting woman.
Lydia Deetz
(Gothic wunderkind from Tim Burton's Beetlejuice)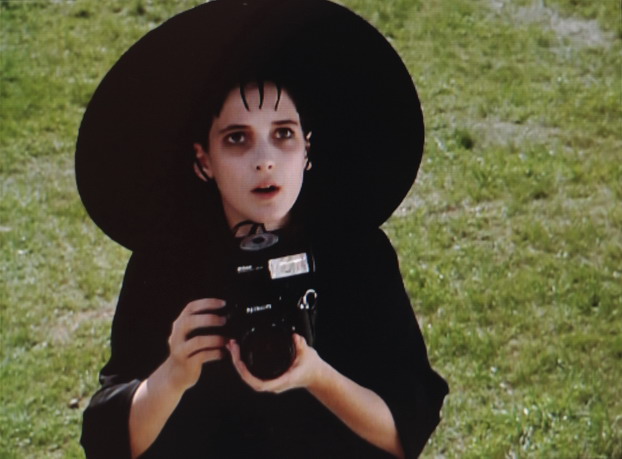 Lydia Deetz is probably one of the main reasons that I'm drawn to goth aesthetic. I've always strongly related to Lydia as a character. You know, dead things and ghosts and being alone. I like the way her character dresses, being covered in black drape-y fabric with lace and a big wide-brimmed hat. Lydia is the reason I have a large black straw hat. She's always been my favourite part of Beetlejuice. Mostly because, y'know... I, myself, am strange and unusual.
There's probably more, but for the time being... These are the main ladies influencing my style at the moment. All of which are ladies with black hair, most of which who have something involving dead things at some point. Interesting...